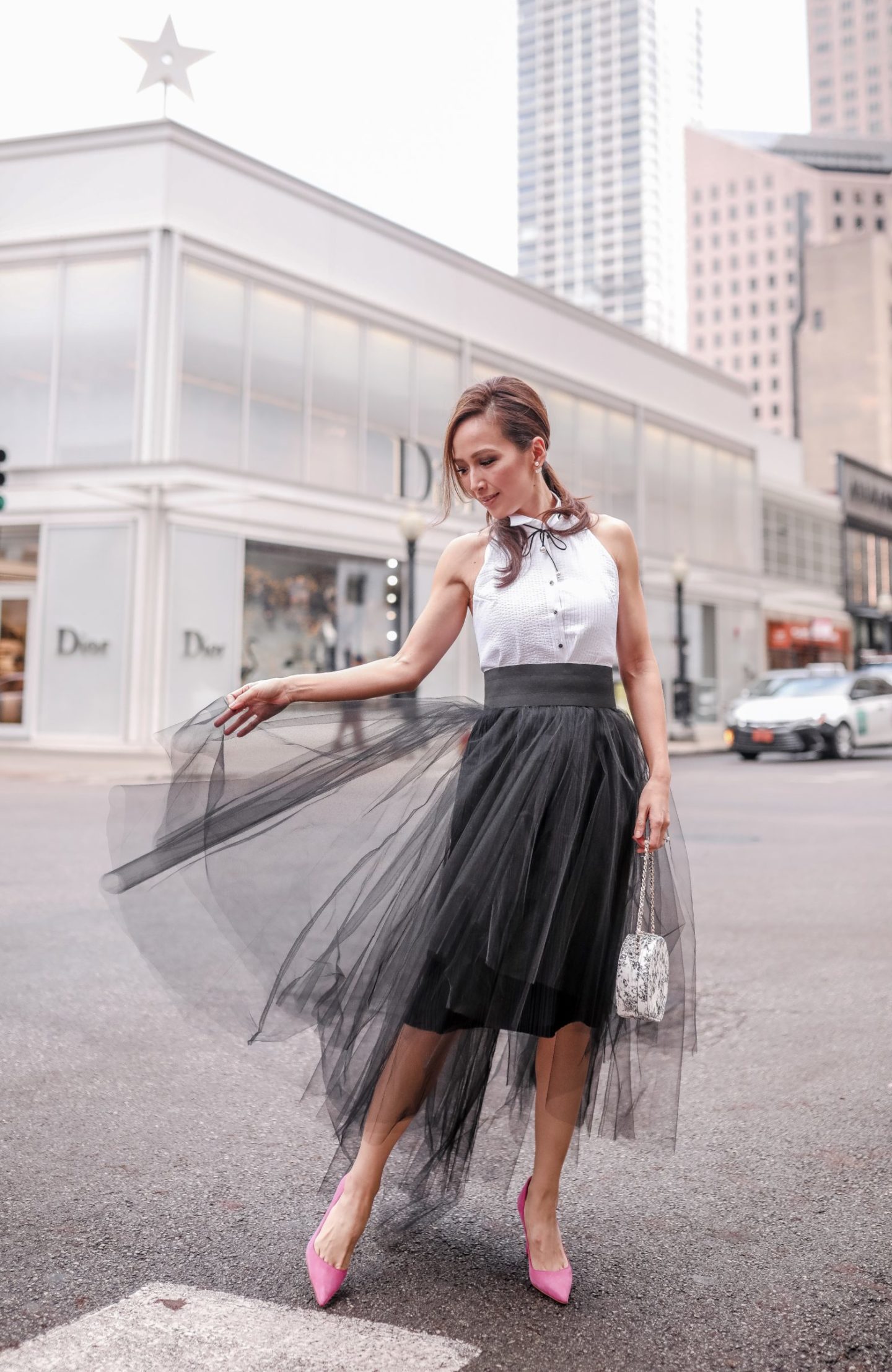 If you have watched Sex and the City series and movies 100000000 times please raise your hand! I don't know about you, but I have seen the entire series and movies so many times, I actually have lost count. A lot of times I even watch it with the sound off, just to admire Carrie's outfits! If only I had her wardrobe… a girl can dream right? I might not be able to get Carrie's wardrobe, but being a fashion blogger has it's perks. One of the most amazing perks is to be able to collaborate with some incredibly talented local designers. That's how I met Katie Farnan, when she reached out to me, I immediately fell in love with her classic and timeless designs. She was kind enough to let me choose one of the pieces in her latest collection, I literally gasped when I saw her HL Pleated Skirt, it's a stunning black tulle skirt that reminded me of Carrie Bradshaw's style. My mind went wild with all the ways I could style it! I'm so happy with how the looks turned out, I hope you love it as much as I do! Since it's Thanksgiving Week, Katie's entire website is 30% off, So head over to her website (www.katiefarnan.com) to check out her other pieces and use my discount code FSAngel to get free shipping as well.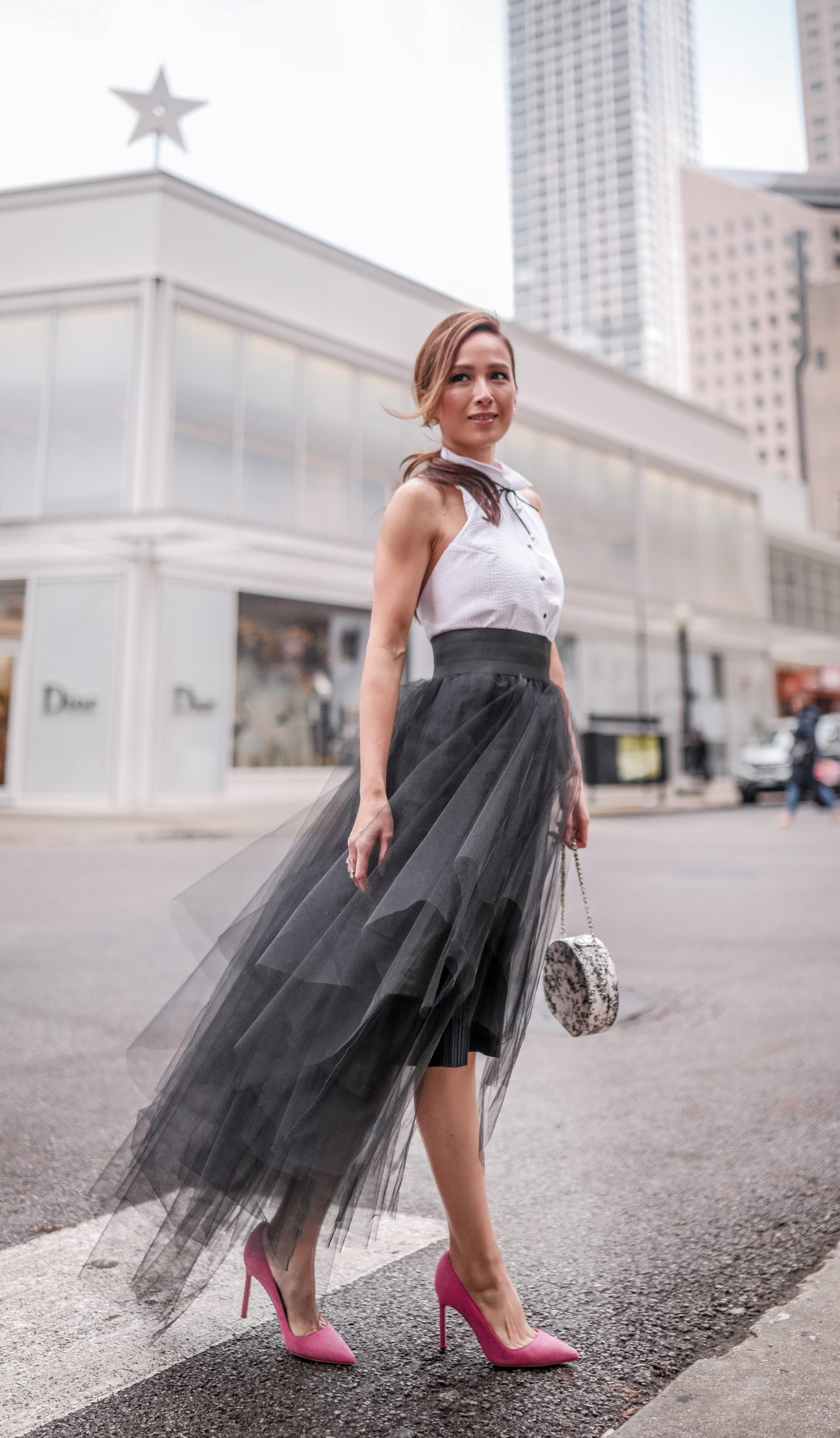 Look 1 – A classic black tulle skirt is such a staple in any wardrobe, What I love about Katie's design is the high low detail, it adds that little extra twinkle to the whole look. I wanted this look to be elegant and fun at the same time, so the Zara tuxedo top with an open back became the top choice to pair with the skirt. Carrie Bradshaw introduced me to Manolo Blahnik, so you know I can't do a Carrie-esque Look without some hot pink Manolos! ? . And about that chic little handbag? I borrowed it from Millie's Janie & Jack handbag collection! oh the perks of having a stylish four-year-old daughter!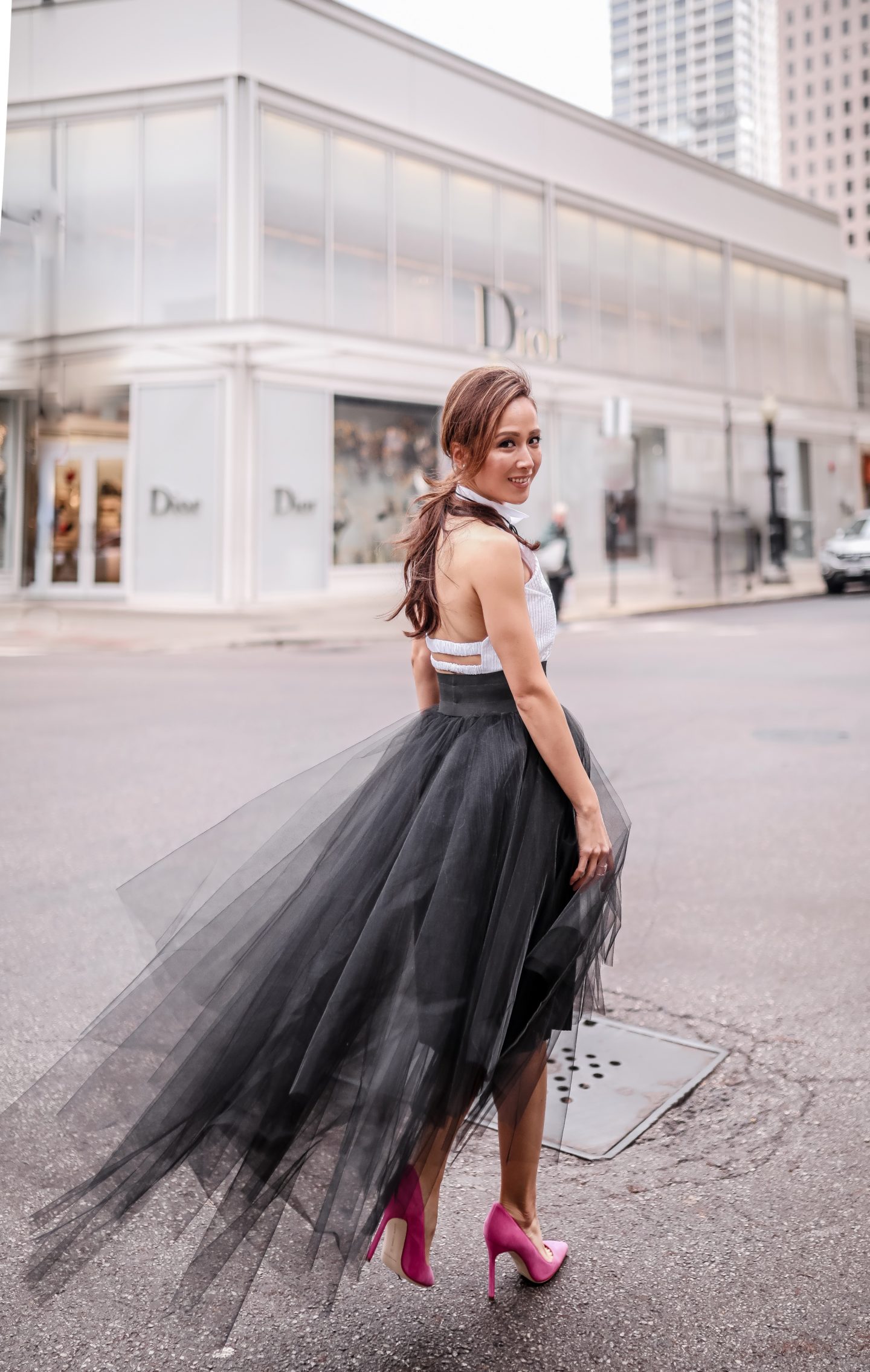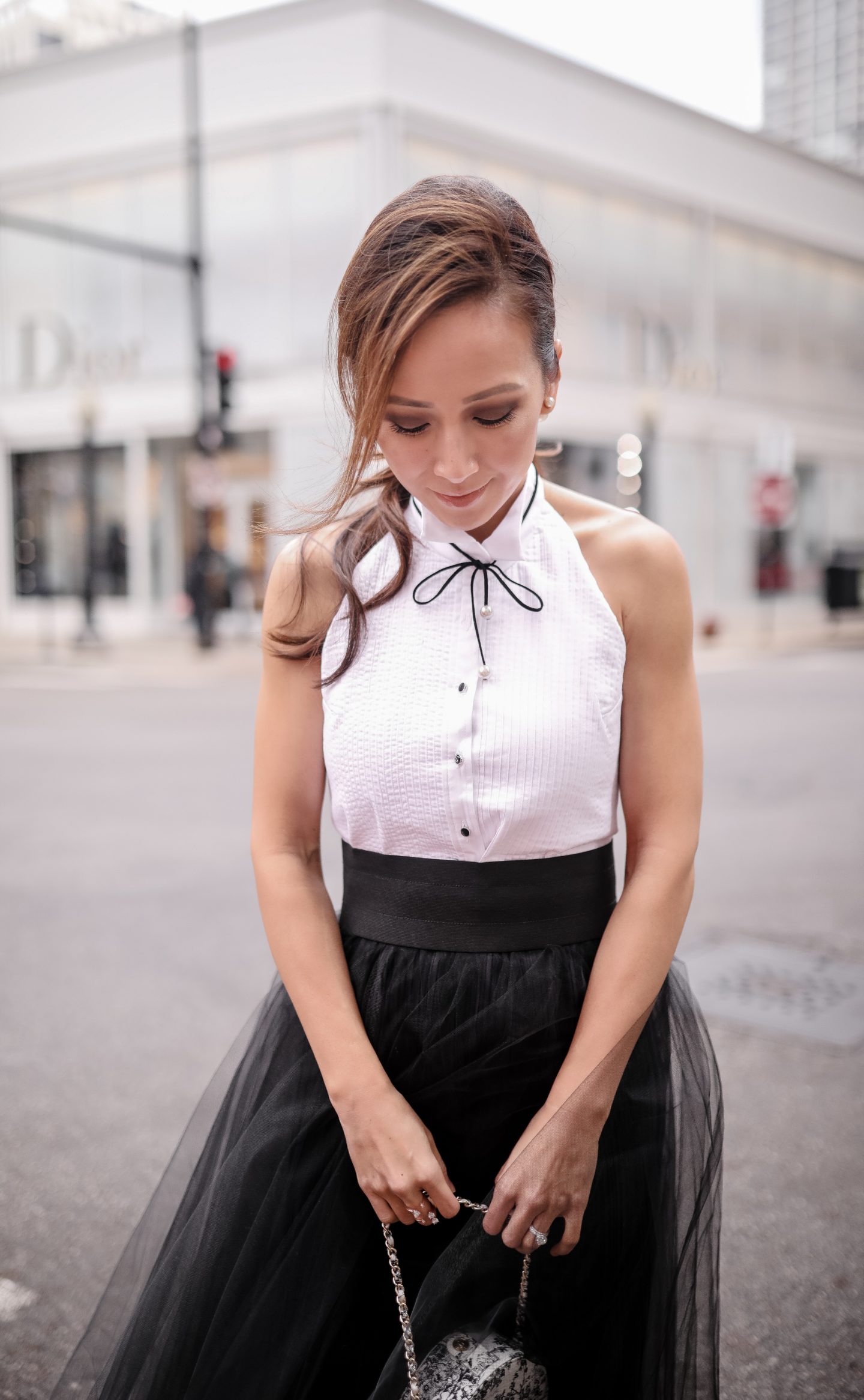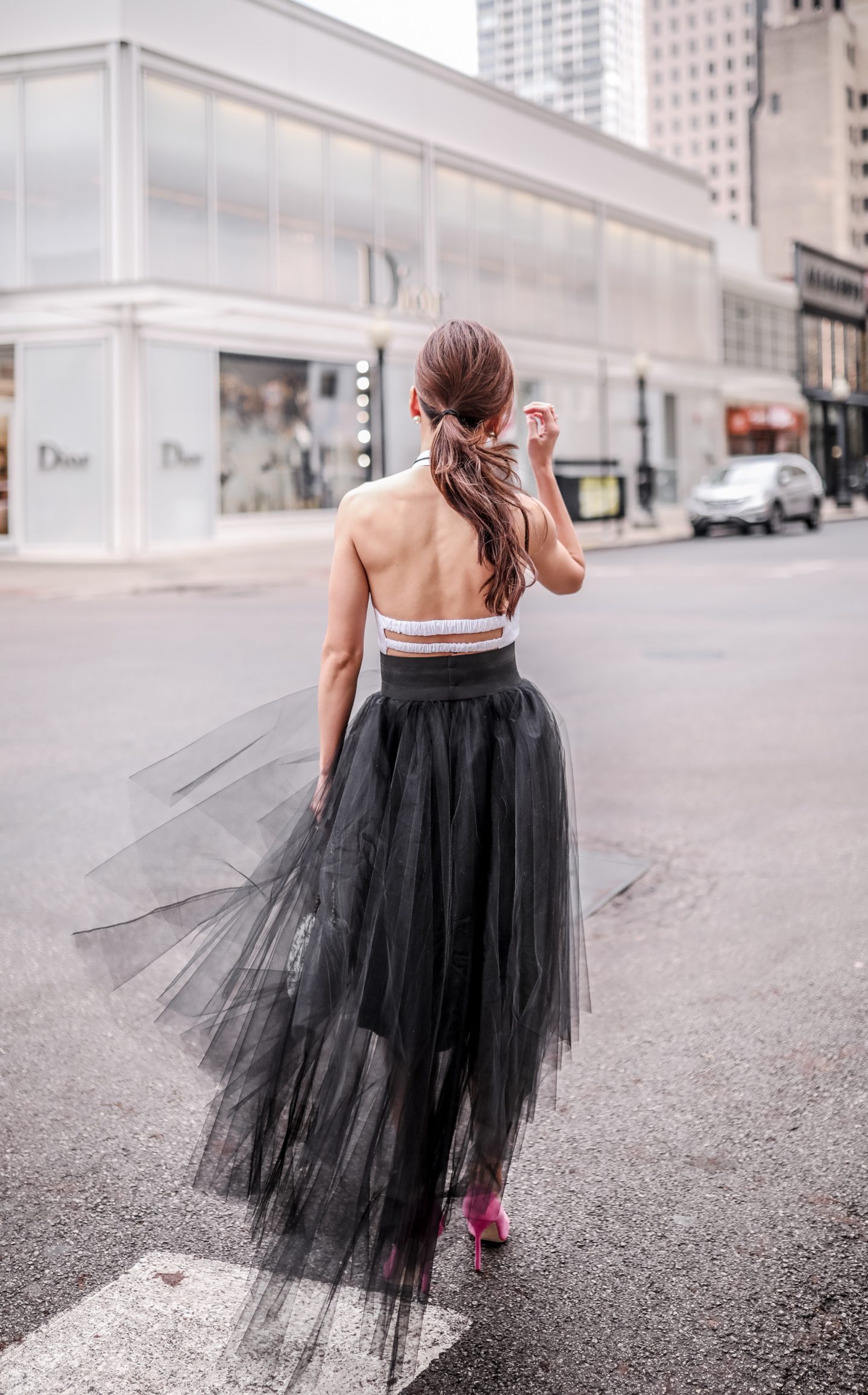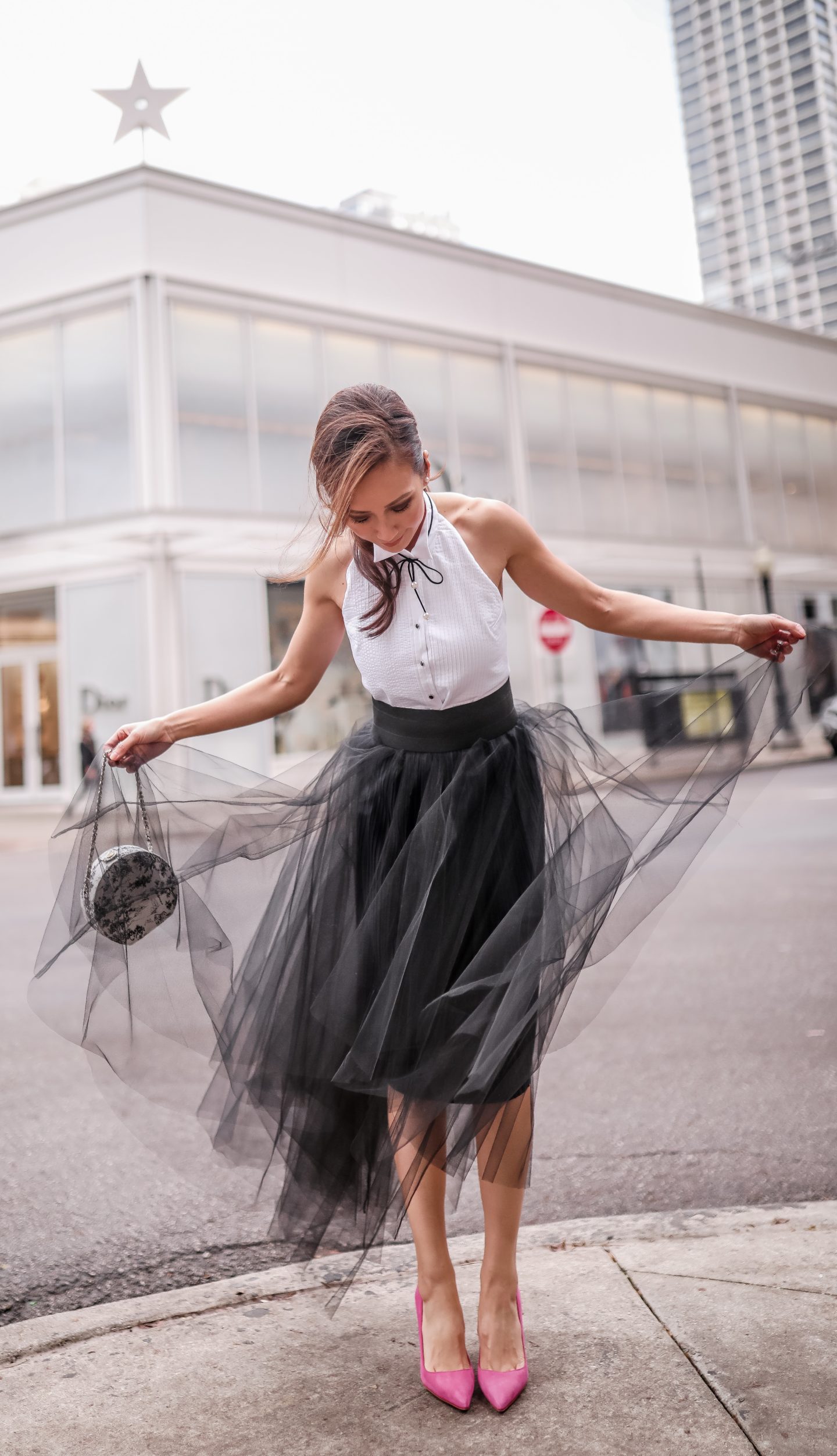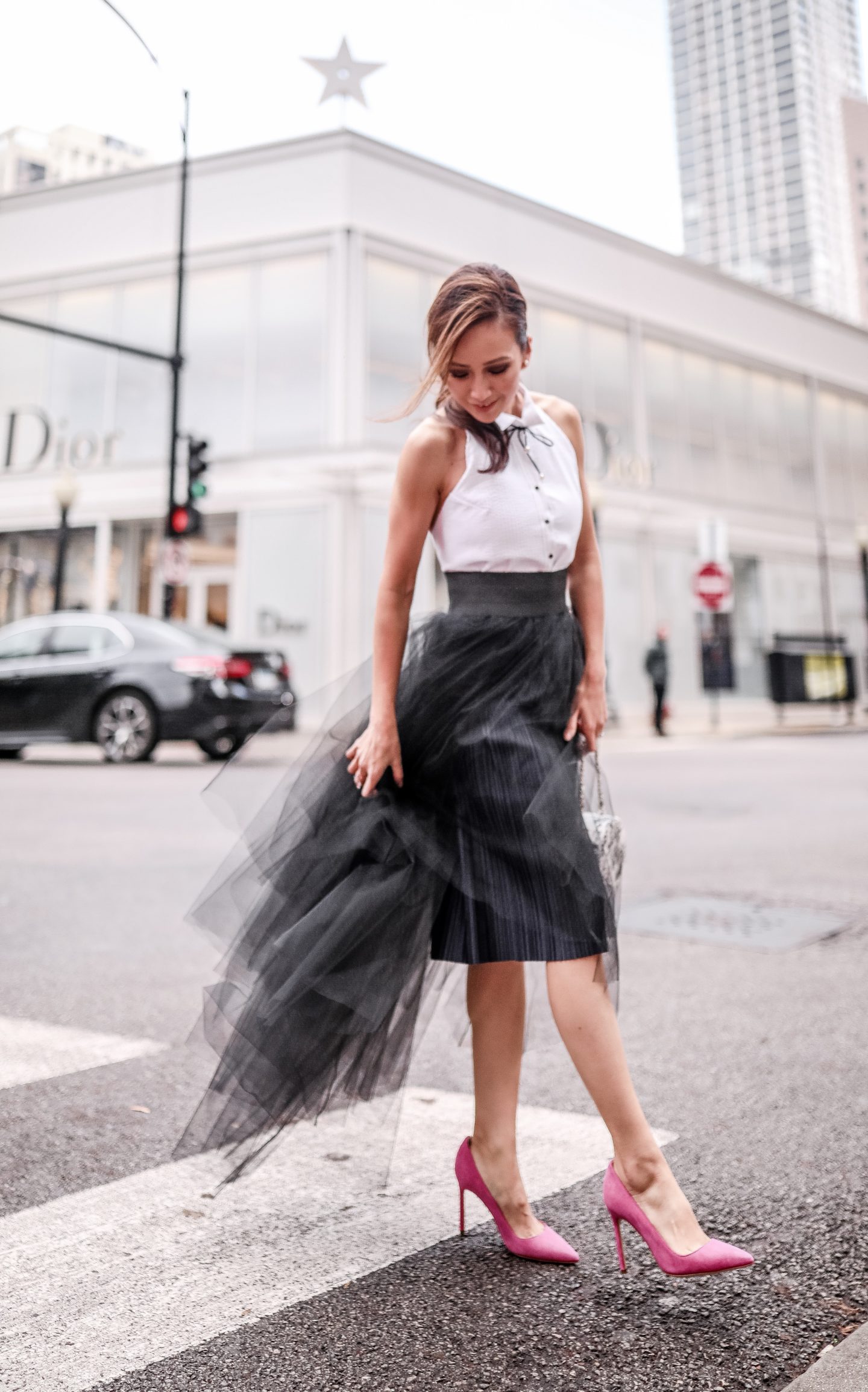 Look 2 – If you know me, then you know I love Chanel, Dior and Carrie. So this next look is a way for me to express my love for all three. I love black lace bodysuits, but let's be honest, it's hard to wear those without feeling so exposed. Luckily I found a chic solution inspired by Dior's designs. put a simple white tee under that bodysuit! you get the best of both worlds! This solution also paired so perfectly with Katie's skirt! Add my favorite Chanel boots, I am squealing with joy over this outfit! If Carrie and I are friends, I would totally be brunching with her in this outfit, followed by some major retail therapy at Bergdorf Goodman.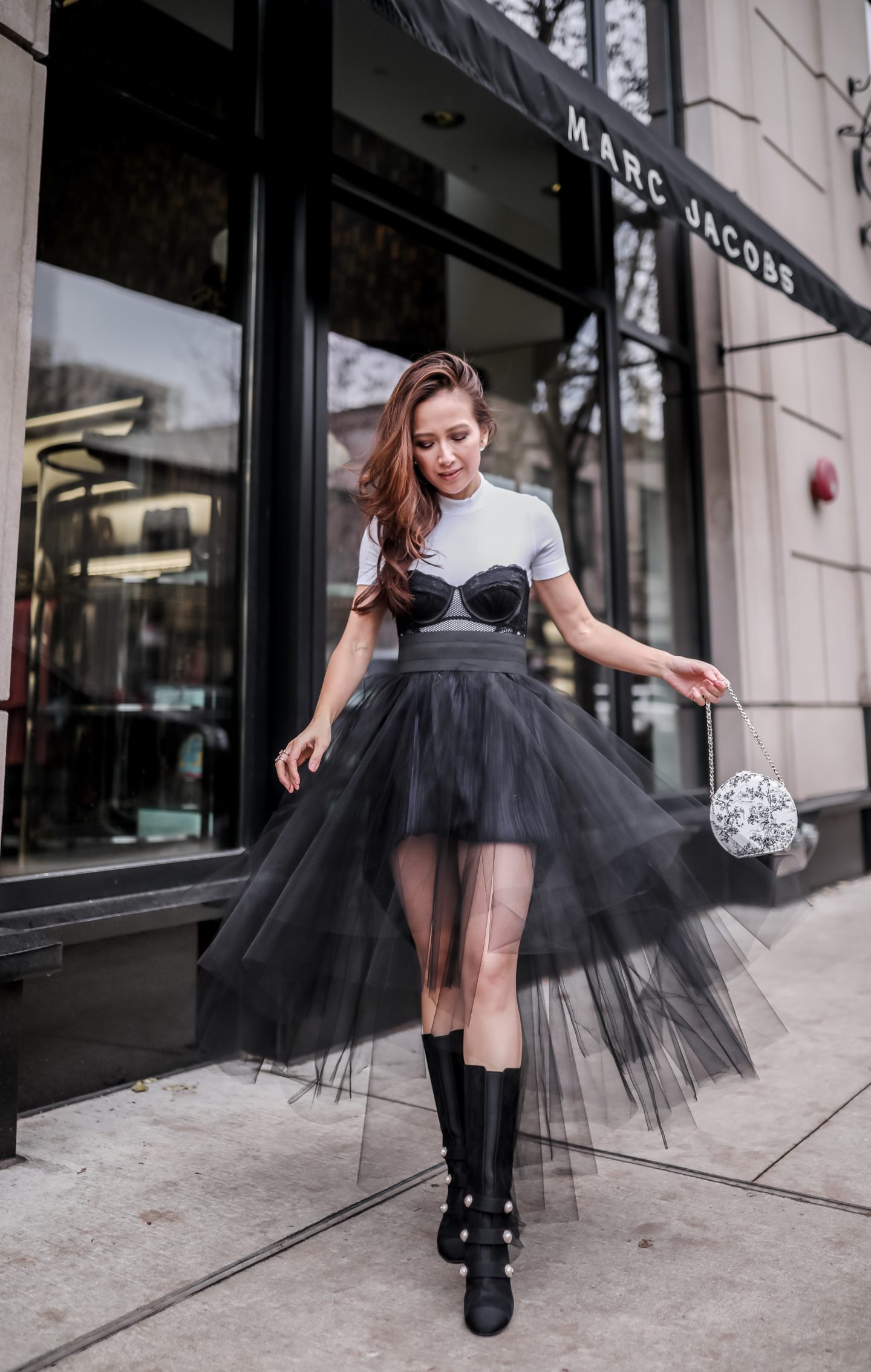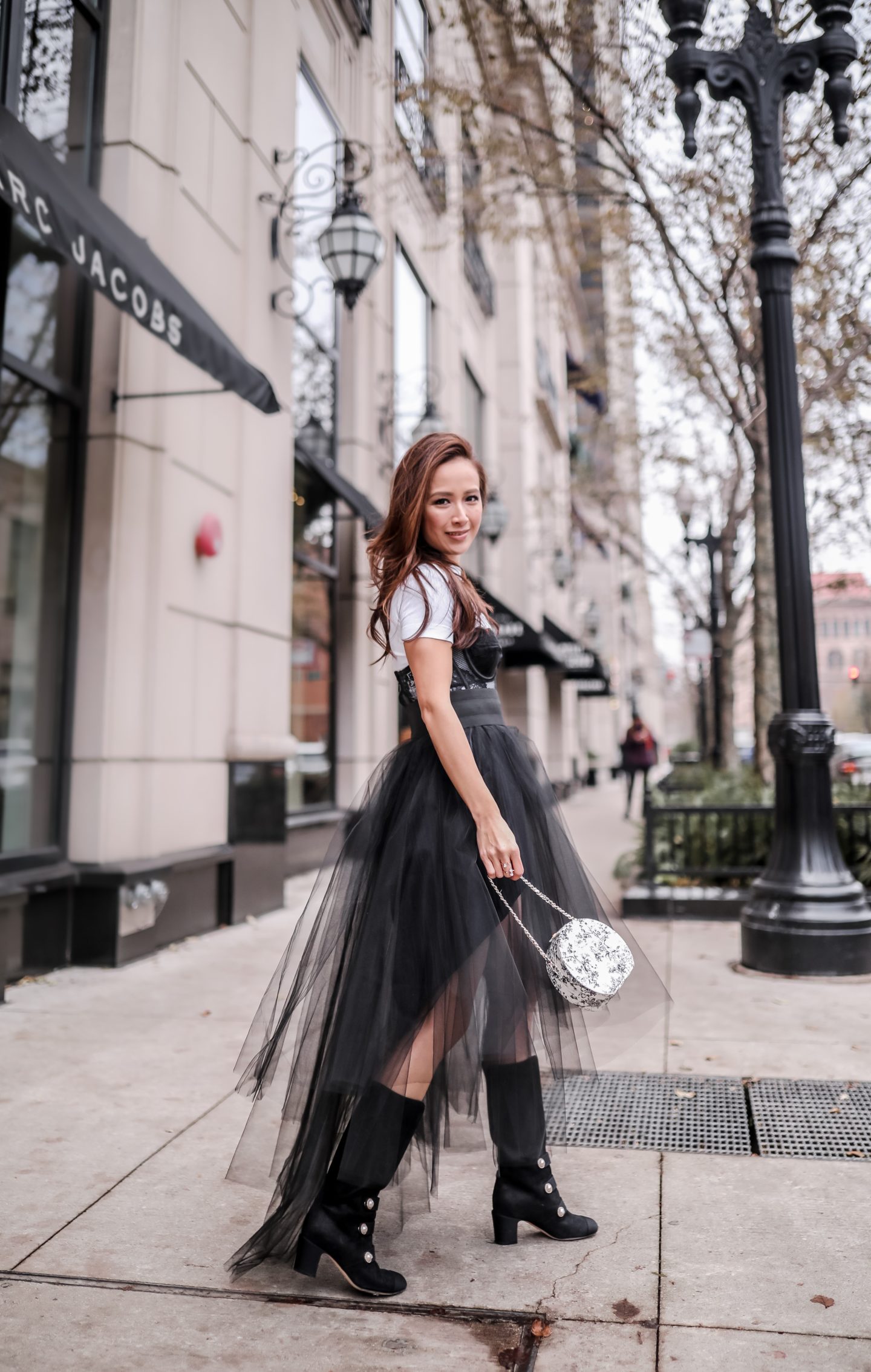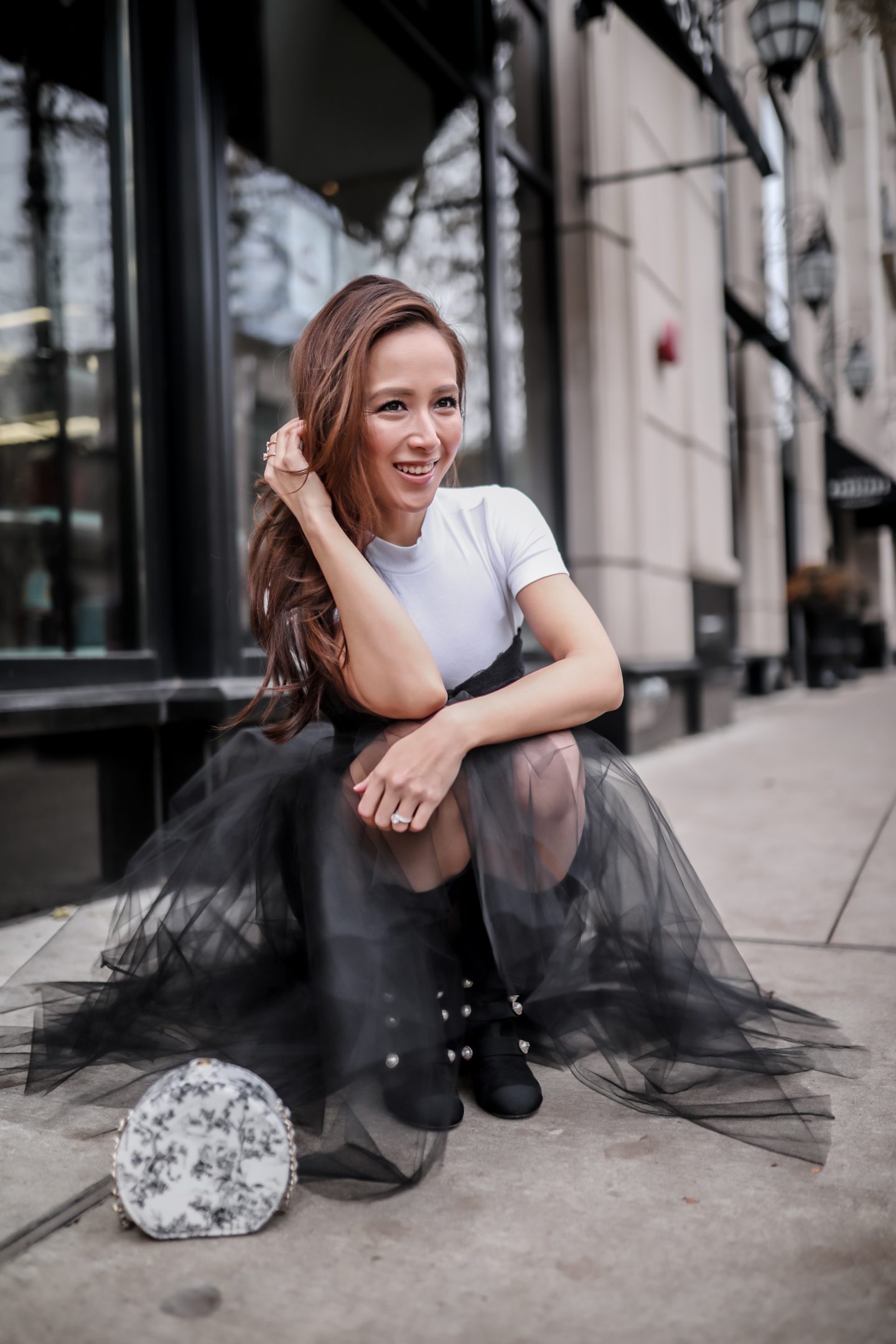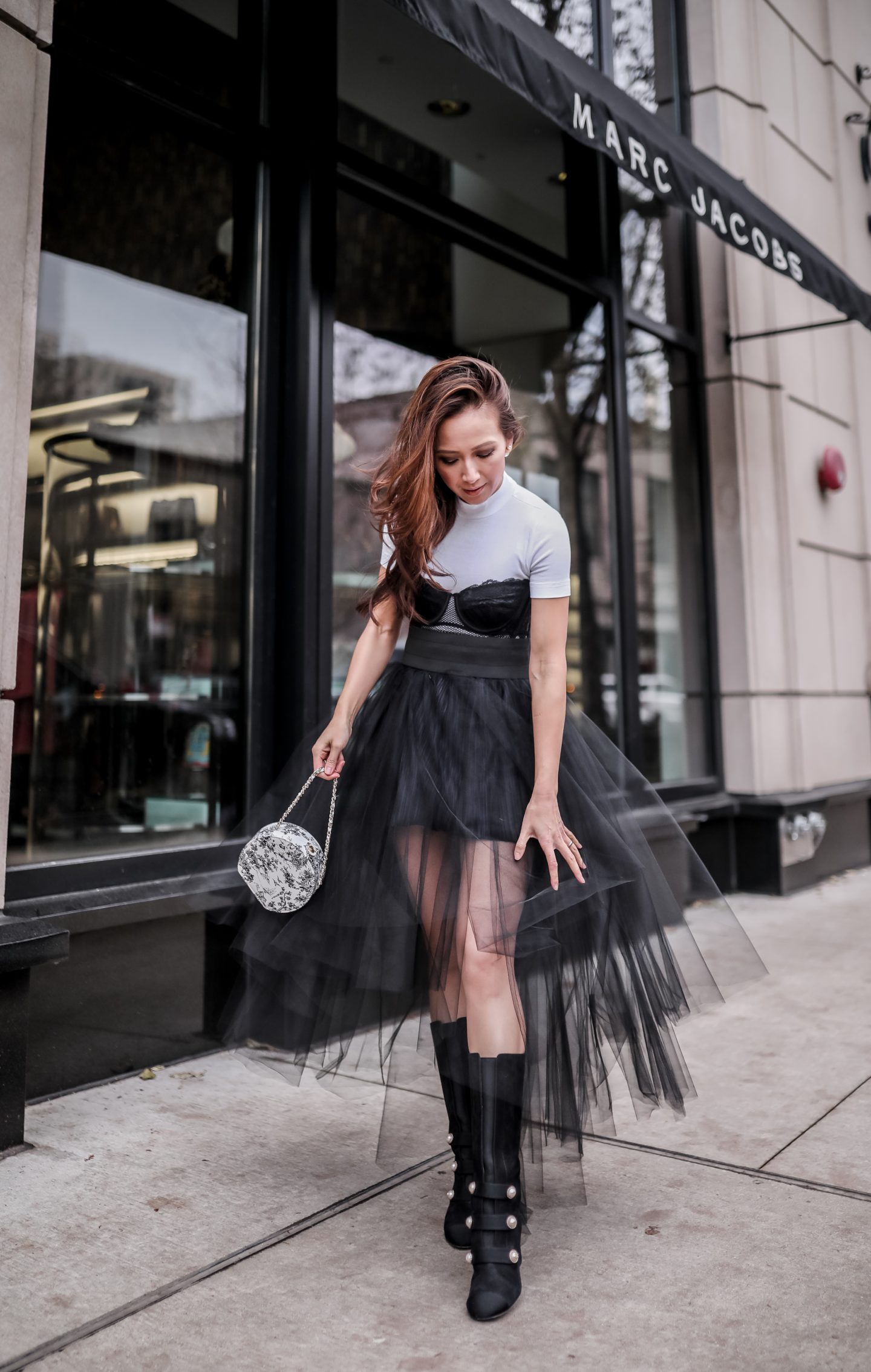 Look 3 – I am a blazer hoarder, so I can't put together a look without checking if any of my blazers could be of good use! This ivory H&M blazer is so old and I've had it for over 6 years, but it still remains to be one of my favorite blazers of all time. The flair detail in the back is so beautiful and provided the most stunning contrast to the black tulle of the skirt.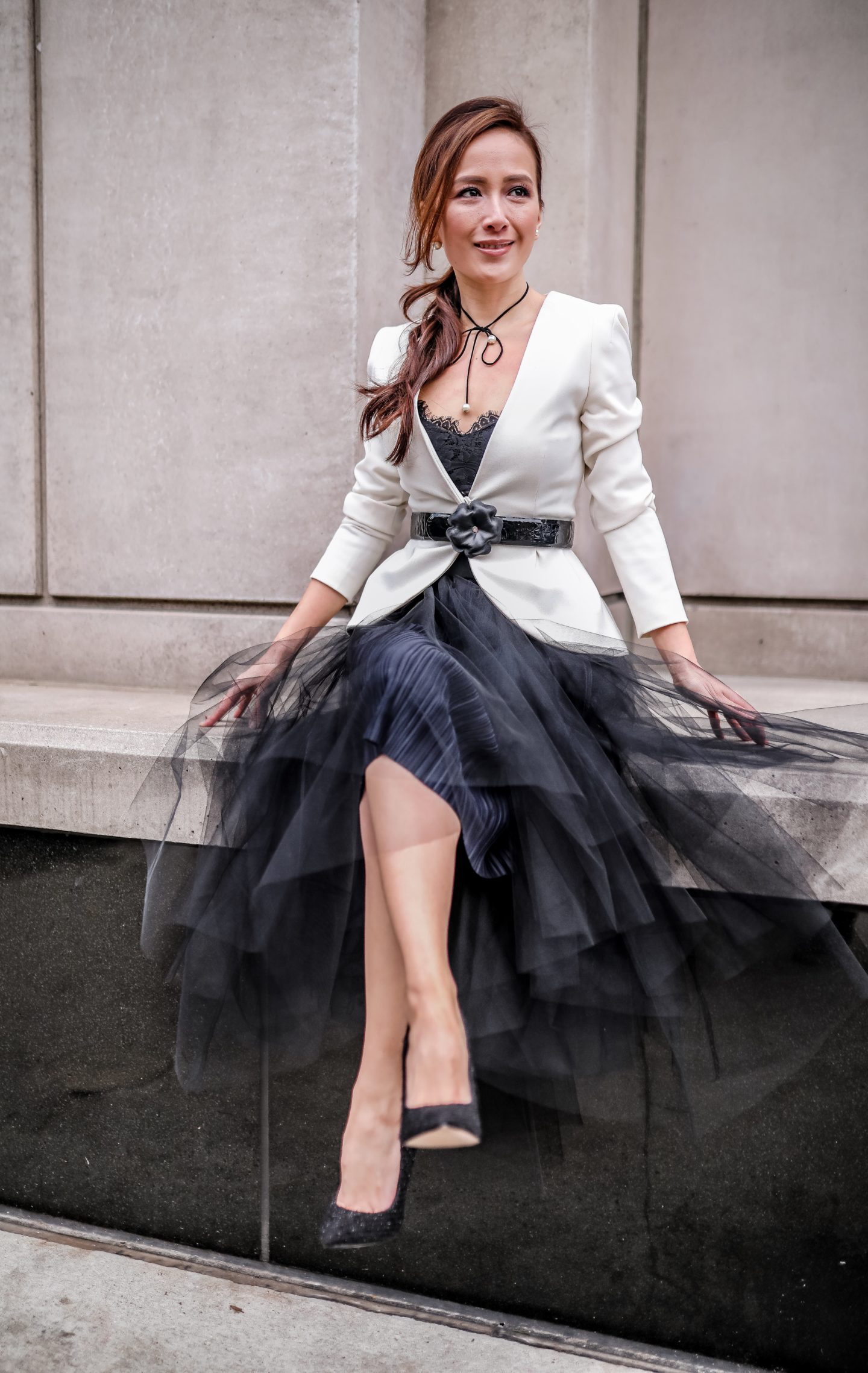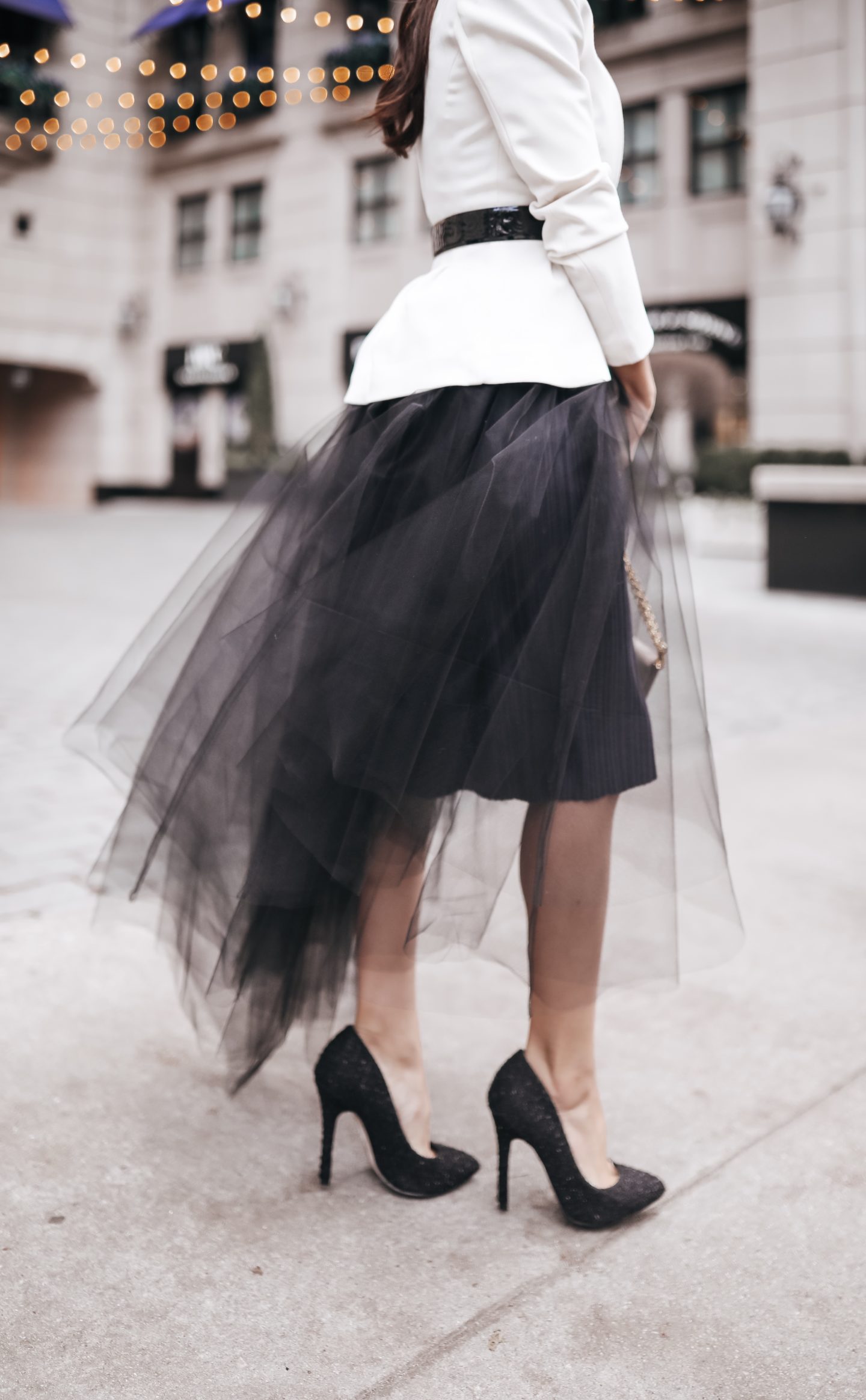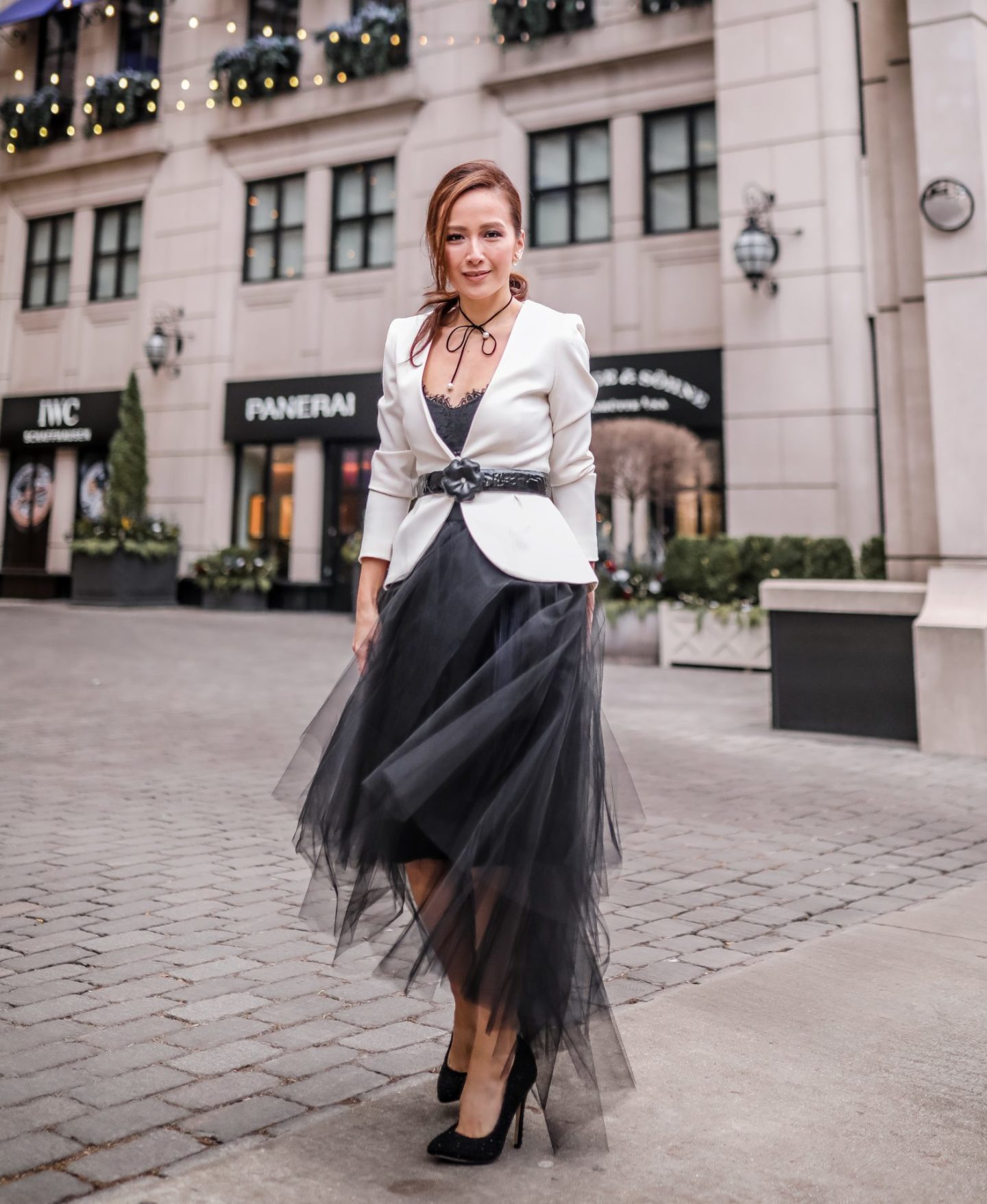 Look 4 – I might have cheated a little bit on this look, if it looks familiar to you is because it's the same as look 2, except I changed out the Chanel boots to these white booties and added a pink leather jacket. This pink leather jacket is actually an athleisure jacket for going to the gym! oh how workout clothes has evolved over the years! I love how two simple items changed up the vibe of the entire look to a edgier and fun look! And who says black tulle skirt is only for formal and fancy occasions? This look proves just how versatile Katie's design really is! Casual with a little edge and a little polish? yes please!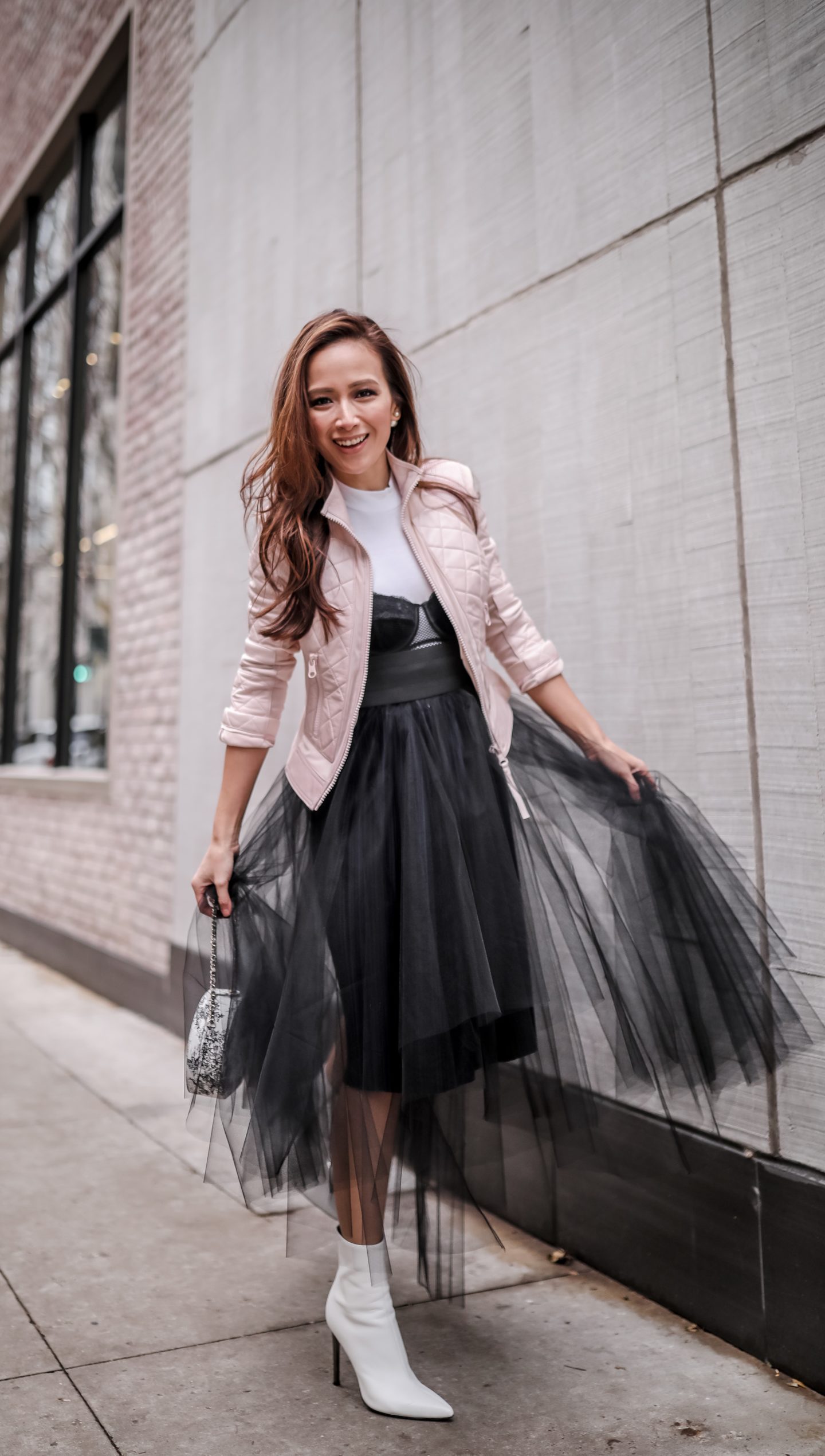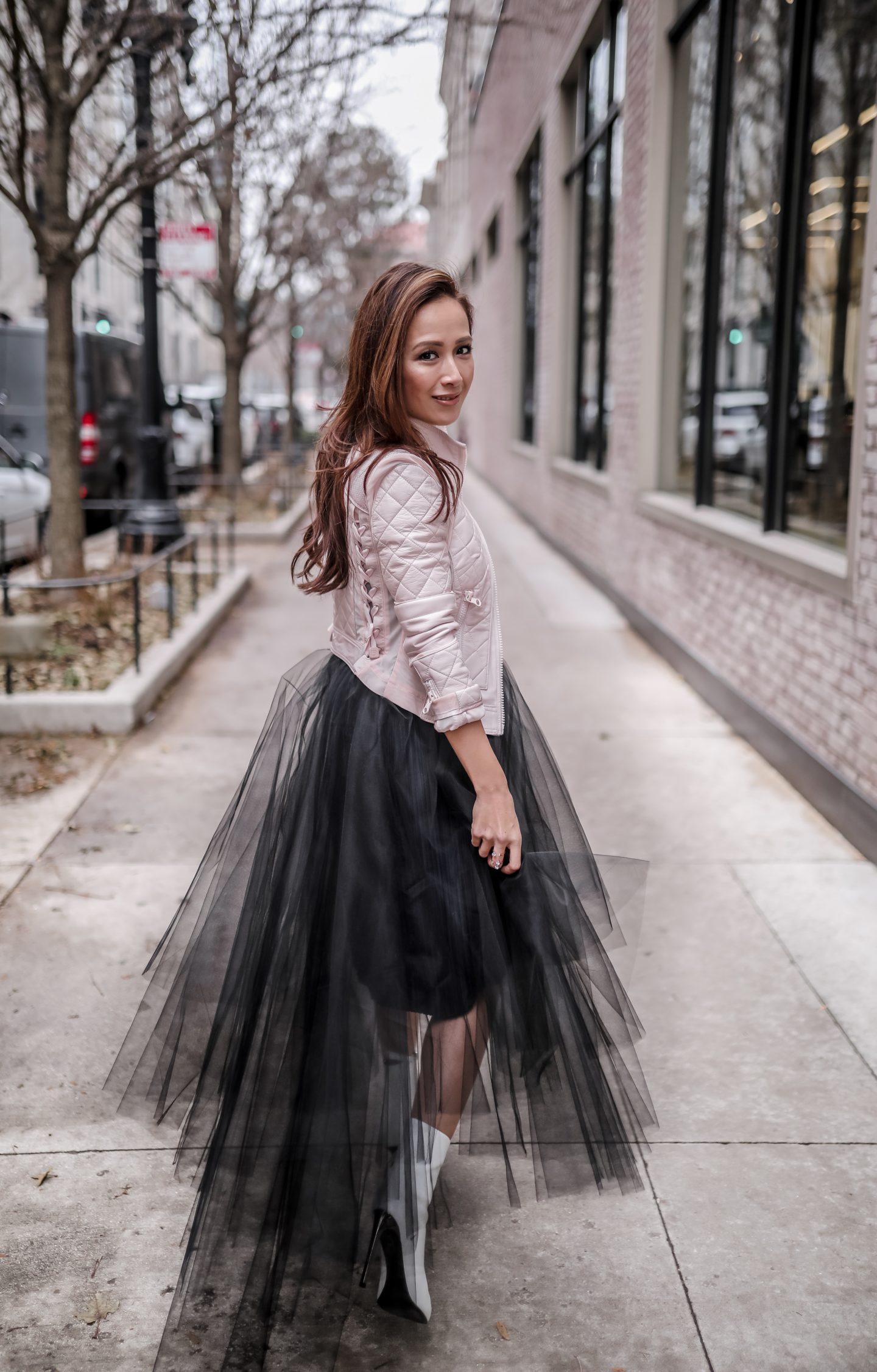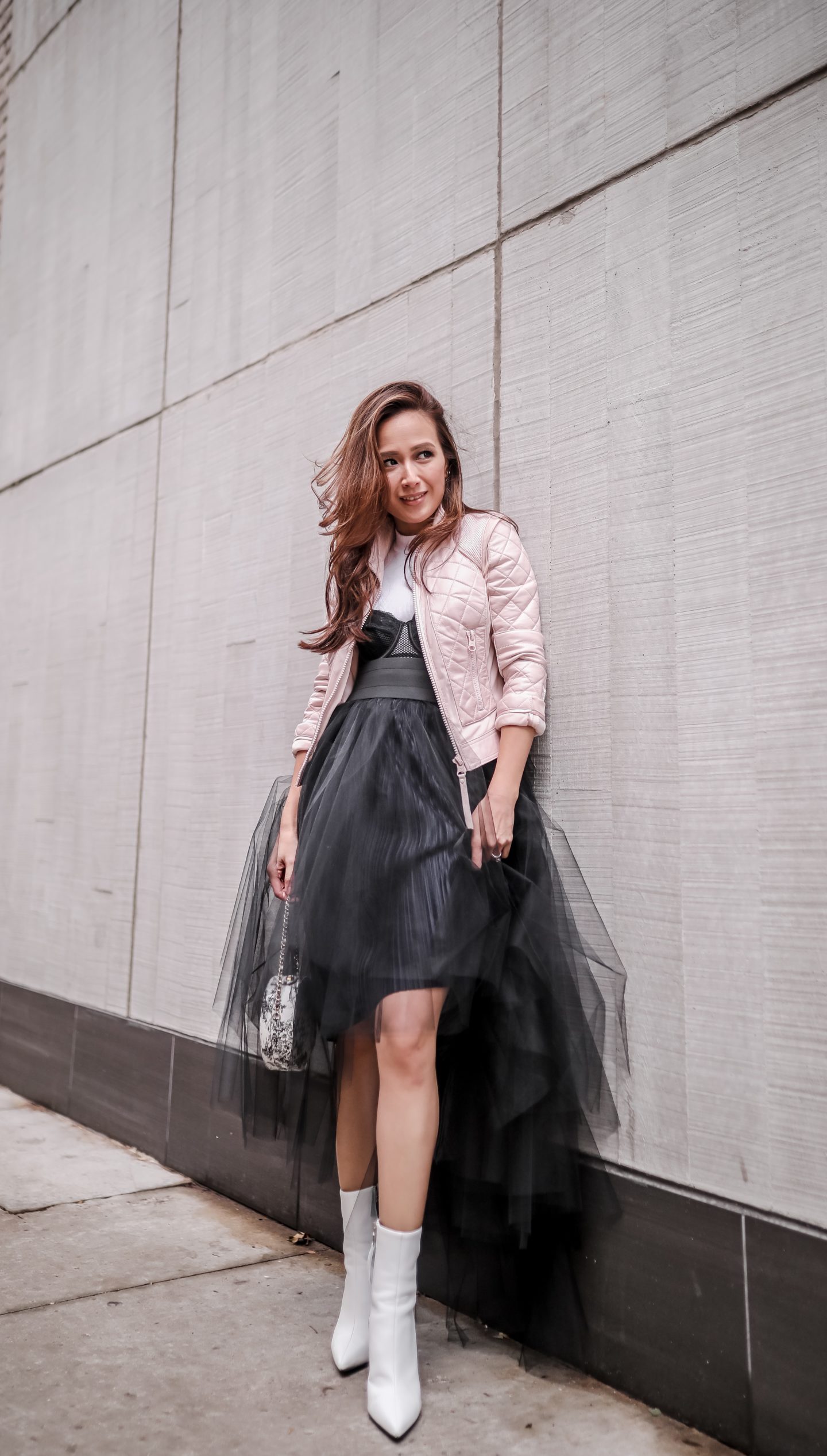 Look 5 – When I first received the skirt, I was immediately drawn to the feminine beauty it possesses. For this final look, I wanted it to be soft and feminine. This pink off the shoulder sweater adds that splash of softness and coziness to the skirt, and the clutch makes the whole look perfect for a date night or some afternoon tea dates with your girl squad, and of course my dream girl squad would have Carrie in it!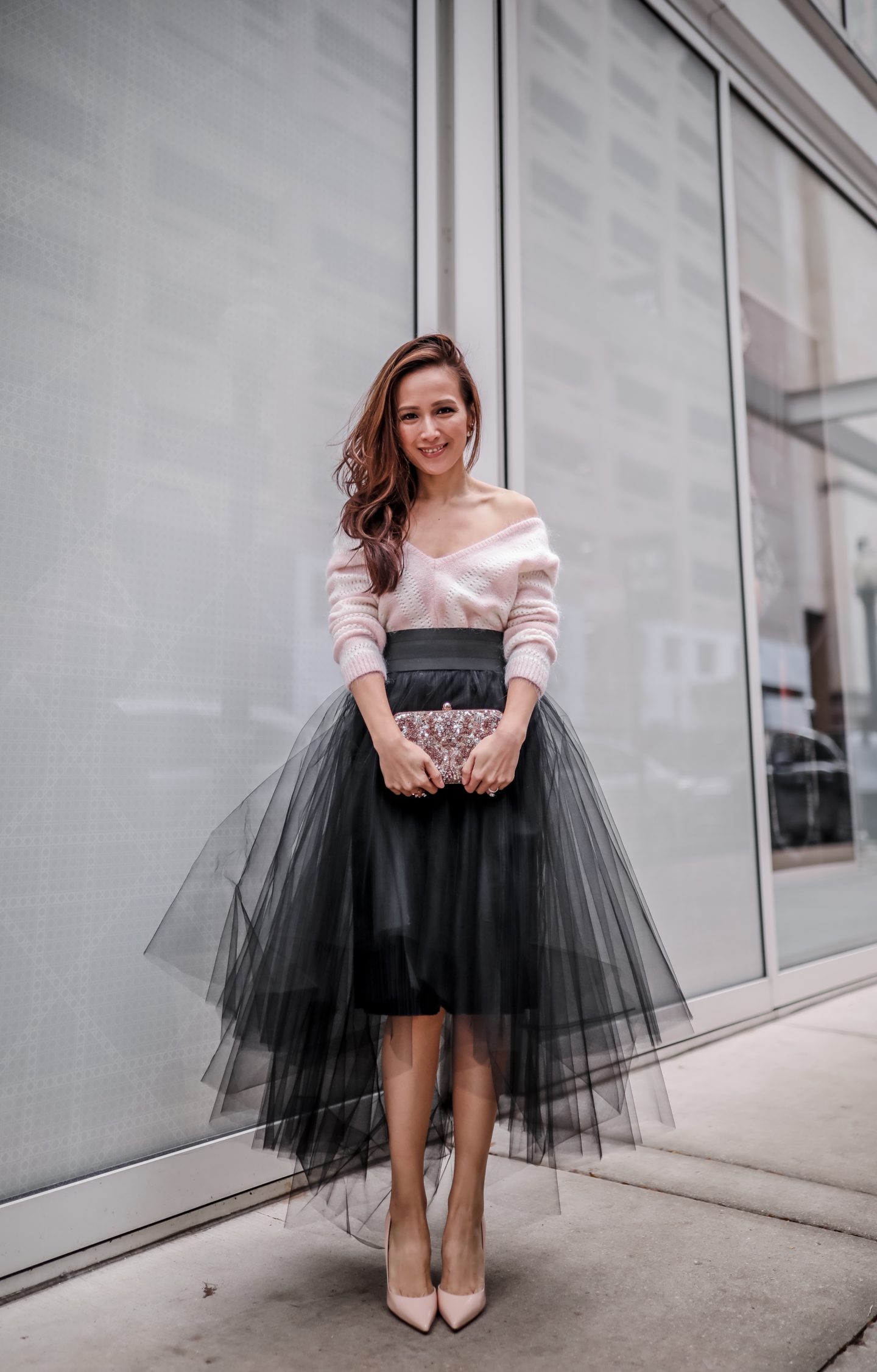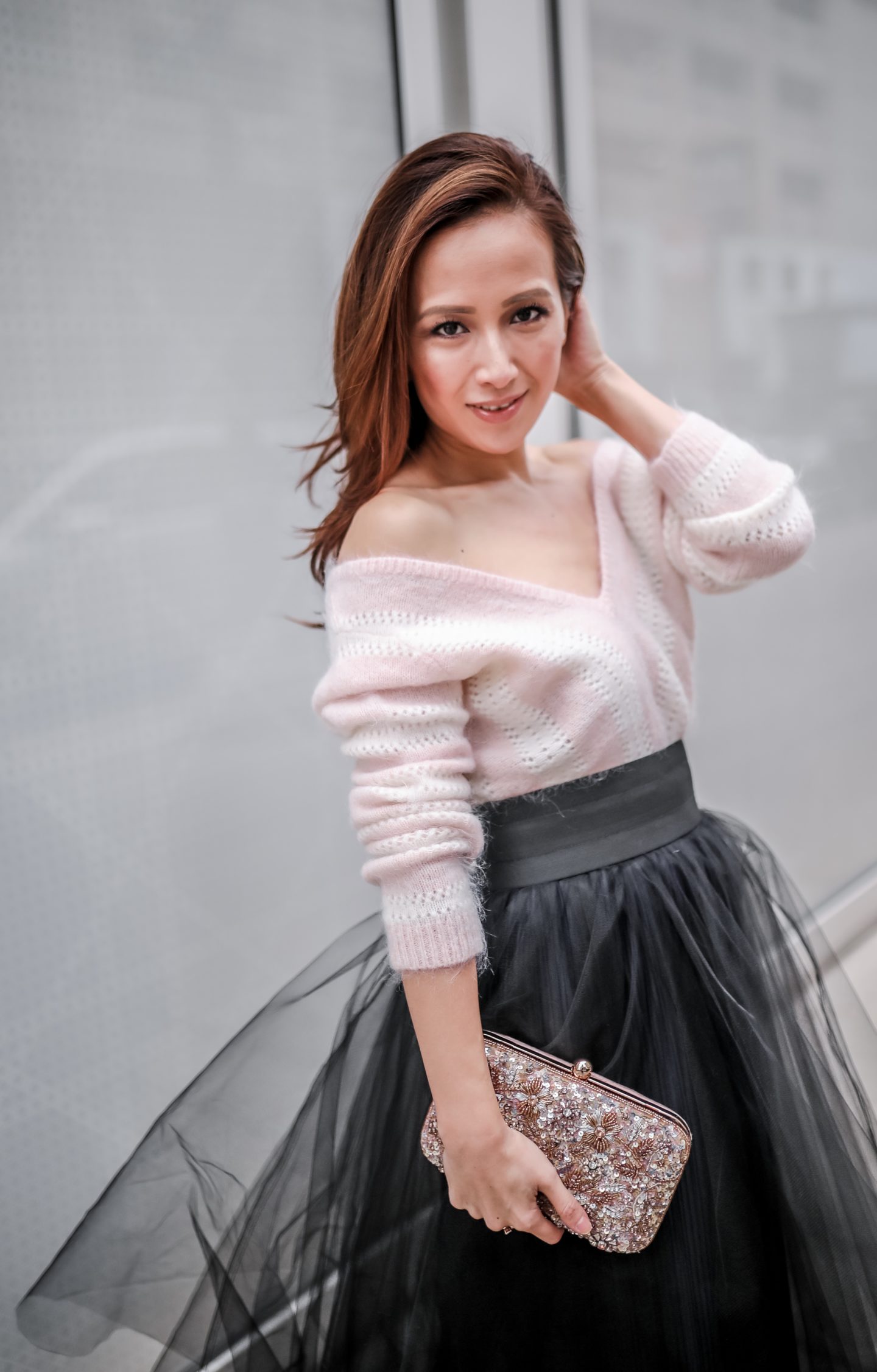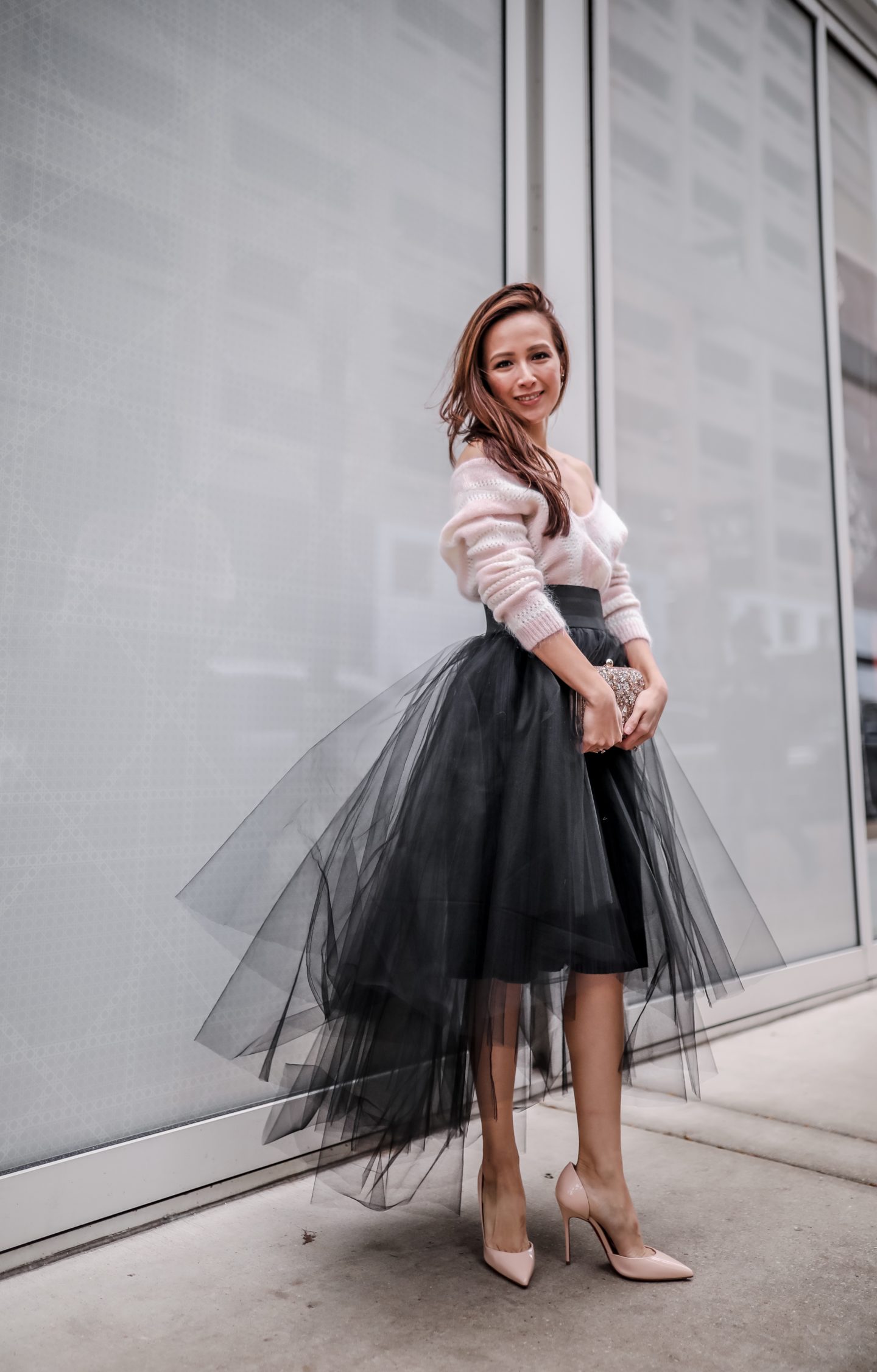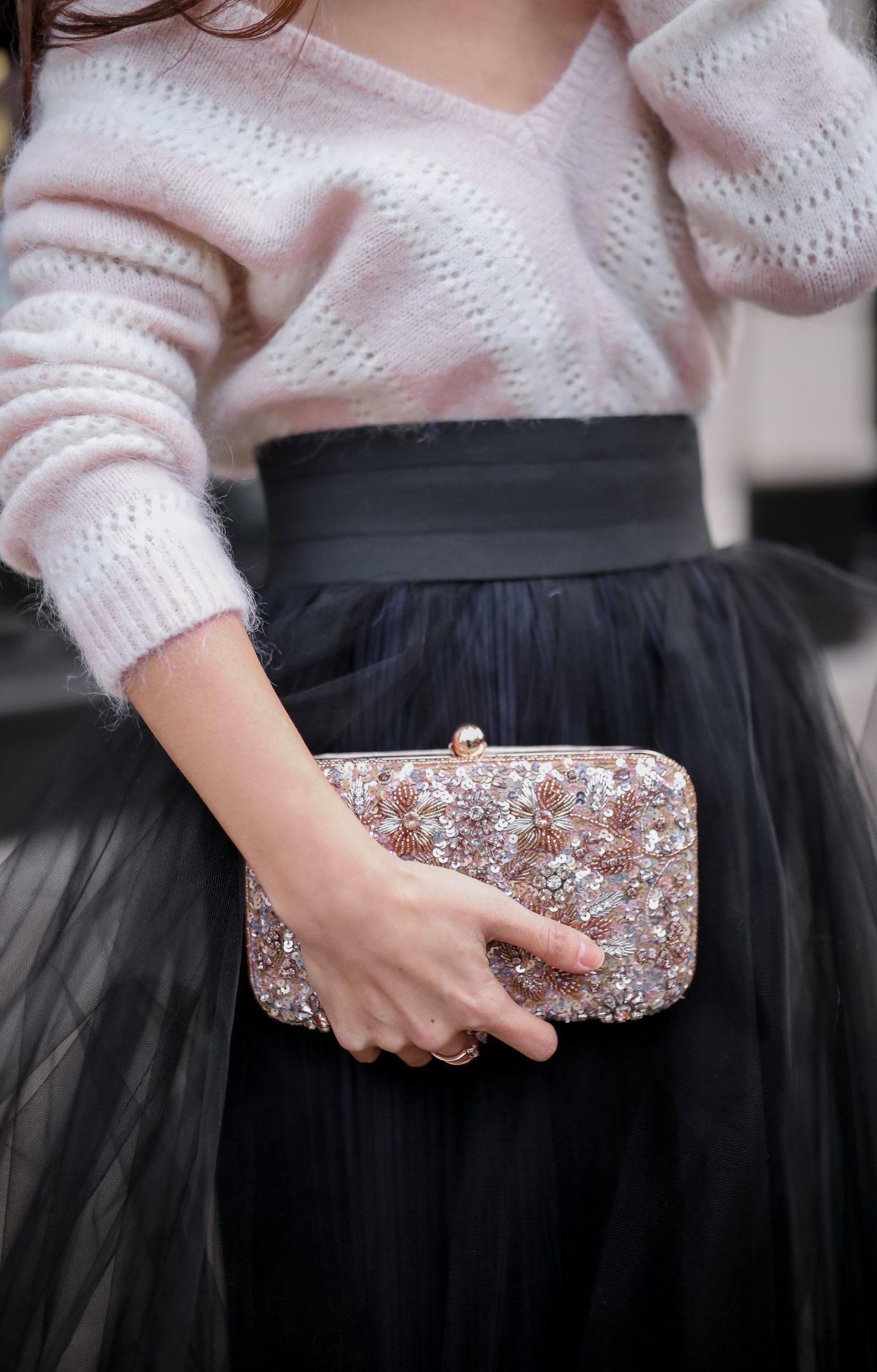 I hope you enjoyed these looks! One of my missions in blogging is to support women owned small businesses, because together we can conquer the world! Katie is so incredibility talented, I am confident that you will fall in love with her designs like I did! Happy Shopping!
Much Love,
Angel